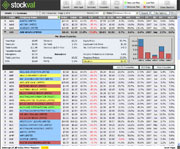 IN BRIEF
Client Industry
- Share investment and portfolio management
Dataforce Services
- Development of a secure web-enabled interface making StocksInValue (formerly MyClime and Stockval) accessible to clients via the Internet
- Server setup and customisation
- Ongoing application support
- Secure browser-based application development
- Remote server administration for ongoing product support
Technologies
- PHP
- AJAX
- Web Standards (HTML, Javascript, CSS)
- Yapter Templating
- mySQL
- BSD Unix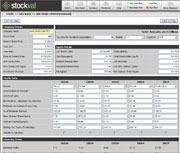 Client : CLIME ASSETT MANAGEMENT
URL : www.clime.com.au and www.stocksinvalue.com.au
Project : Web Application Development
Profile
Clime Asset Management provides individualised share portfolio management services for investors. One of its flagship offerings is StocksInValue (formerly MyClime and Stockval), a professional stock market investment tool that gives individual investors access to the same investment decision-making data used by professional fund managers. Using the value investment principles made famous by Warren Buffett, MyClime (formerly Stockval) educates and helps serious investors to take a long-term approach to purchasing shares in premium businesses at rational prices.
Challenge
When Clime Asset Management approached Dataforce, it already operated StocksInValue as an investment decision-making tool. However, the product was a desktop program that users needed to install on their computer, and relied on the user manually downloading a data file to update stock data.
With fully online access to investment and financial management products increasingly becoming the norm, Clime now wanted to provide clients with direct online access to the financial data and analysis tools offered by this powerful software.
This presented the challenges of creating an investor tool that was accessible via the Internet, yet secure, and of integrating this web-based application with other data sources.
Solution
Dataforce set about redeveloping StocksInValue as a fully online application. The web-based version centralises all data and interfaces with third-party data feeds for regular, automatic updates of stock data and exchange rates without any manual action required on the user's part.
Other new functions include the ability for a user to "add a company" that they wish to monitor, upload data about it and then use ime to track its performance.
Users can also choose to "share" a stock valuation that they submit, allowing it (subject to approval by Clime) to be published and made visible to other StocksInValue users.
The resulting solution is easy to use, compatible across all major platforms and browsers, and requires no software downloads by the user.
Benefits
StocksInValue provides Clime Asset Management with a significant point of differentiation from its competitors.
Enhancing the investor education side of Clime's business, it helps the company's clients engage more actively, more knowledgeably and more profitably in the share investment process.
The ability for users to "share" the stock valuations that they upload contributes towards Clime's agenda of creating an investor community among its clients. This supports the priority that Clime places on investor education.
StocksInValue is a successful and cost-effective means of delivering value to investors and securing investors' loyalty to the company's leading-edge investment strategies.