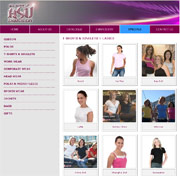 IN BRIEF
Client Industry
- Embroidery, Apparel & Promotional Products
Dataforce Services
- Website design and development
- Web-based, custom content management system
Technologies
- Shopping cart-style online catalogue & enquiry system
- MySQL
- PHP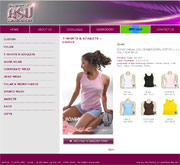 Client : ALL SEWN UP EMBROIDERY
URL : www.allsewnup.com.au
Project : Web development with online product catalogue
Profile
All Sewn Up Embroidery (ASU) is a distributor of fine quality embroidery products, principally for corporate apparel, sportswear and other custom garment markets. Based in western Sydney, it services a growing national customer base. Dataforce has developed two generations of website for ASU – an initial brochure-ware site and more recently the current site with online catalogue.
Challenge
As a young and innovative company with a focus on excellence, quality and service, ASU sought to harness the Internet in ways that would increase sales and enhance customer service.
Because many orders involve custom design specifications, and because personal interaction with clients is an important part of meeting specific needs, it was decided that online sales were not appropriate. However, the company wanted to implement an online process that would help drive enquiries and boost sales without removing the personal touch from customer service.
An ever-changing and growing product range also made it essential for ASU staff to be able to update and maintain product information.
Solution
Although online product sales were not required, it was decided to adopt an e-commerce style approach to presenting products. Browsing a shopping cart-like product catalogue, customers can build a desired order, specifying products, variations and quantities, and submit this structured enquiry for response by an ASU customer service representative.
The website includes a custom content management system which enables the ASU to upload, maintain and remove products, and manage product categories and specials.
Benefits
The back-office features coupled with front-end simplicity of the system have meant that the website has made a major contribution to sales growth.
Supported by online and offline promotions to drive website traffic, an increasing proportion of sales enquiries and orders now originate through the website.